DYFUZOR ROUGH
"STARURFLEX"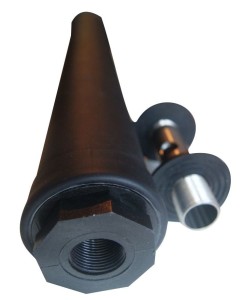 The STARURFLEX 500, STARURFLEX 750 and STARURFLEX 1000 tube diffusers are suitable for use in small-volume aeration of wastewater as well as for aeration of water bodies used in fish farming as well as for lakes, ponds and swimming pools. Diffusers are made of high-quality materials, providing excellent technical properties of the equipment, as well as long-term use. Tubular diffusers can work in continuous and intermittent cycles.
DYFUZOR ROUROY.1
The "STARURFLEX" diffusers are made of PVC or PP pipes with suitable fittings for mounting on 110 mm plastic pipes or on steel square closed profiles.
The "STARURFLEX" diffusers are originally designed to work in tandem.
Tubular diffuser
Characteristics of diffusers "STARURFLEX 1000"
Diaphragm carrier – PVC 63mm PN-10 or PP 63mm pipe with 110 mm pipe connector
Membrane – Rubber EPDM rubber
Fixing band – acid resistant steel 1.4404
Diameter of diffuser 67 mm
Surface active diffuser 1780 cm2
Diffuser mass with connector 1.42 kg
Membrane opening pressure of 20 mB
Air flow through diffuser 2-10 Nm3 / h per 1 m.b.
Oxidation efficiency under standard conditions of approx. 20G O2 / Nm3 per 1 m.b.
Economics of oxygenation in standard conditions 3 – 6kg O2 / kWh
Diffusers can operate from 1 to 8 m of sewage.
The flow resistance of the diffuser at 20oC in the range of 2 m3 / h to 8 m3 / h varies from 20 to 40 hPa.
Air temperature for diffuser with standard diaphragm – up to 80oC
Air temperature for diffuser with special diaphragm – up to 100oC